We have images on display at John Lewis, from a cross section of our members. You will find information about each image, together with the price. A percentage of the cost will be donated to the "Disabled Photographers Society".
Daniel Thuysbaert, Partner and Regional Project lead at John Lewis made this statement;
"I am delighted that John Lewis and Partners, Swindon at Mannington Retail Park is working with the Swindon Photographic Society to host an exhibition of photographs from their members. All pieces of work will be for sale with a percentage of proceeds being donated for the benefit of The Disabled Photographers' Society.
It is particularly exciting to see pieces of photographic art produced by local talent on show in our shop. Many of the pieces are taken using cameras we sell, namely Canon, Nikon and Olympus brands and can really showcase what can be achieved with this technology. I hope the exhibition will inspire our customers to get snapping some of their own works of art."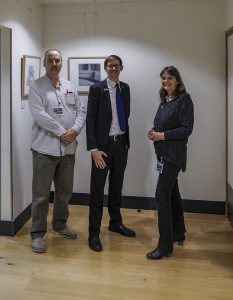 Malcolm and Rebecca with Daniel from John Lewis
When?
from 31st October until 25th November
Where?
in the Community Art Space at; John Lewis and Partners, Mannington Retail Park, Swindon SN5 8WA